My review of the Think Tank Trifecta 8 Camera Backpack
One of my favorite lightweight, mirrorless camera gear carrying solutions!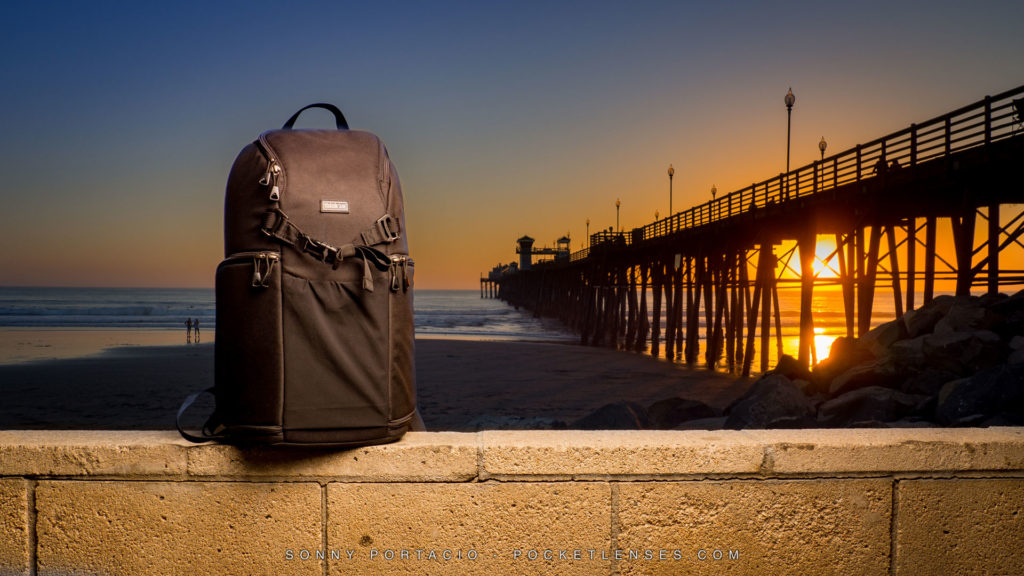 Like many photographers I know, the quest for the "perfect" camera bag may be a perpetual exercise in futility and here's why: As photographers, we encounter and experience a wide (and wild) variety of situations. If I were asked to describe the "perfect" vehicle my answer would have to be "it depends". Do you want the vehicle to haul lumber, carry 16 people comfortably or be able to zip through twisty mountain turns with wind in your hair?
In my search for a day to day, nimble, easily accessible camera bag, I think I may have found one of my favorites, here's why: Although I like shoulder and sling bags certain times, I really appreciate the stable security of a backpack. When I'm biking, hiking or geocaching a backpack is more practical than a sling. Bend over or pedal a bike with a shoulder or sling bag and it tends to swing around and get in your way. UG! The problem is, most backpacks make getting to your camera gear a challenge. You have to take the backpack off, open it up, get to your gear, THEN reverse the process of zipping it back up and putting it back on. Most of the time this whole procedure also forces you to find someplace to set the backpack down. On a bench, a picnic table, but what about when you're standing on wet beach sand? UG!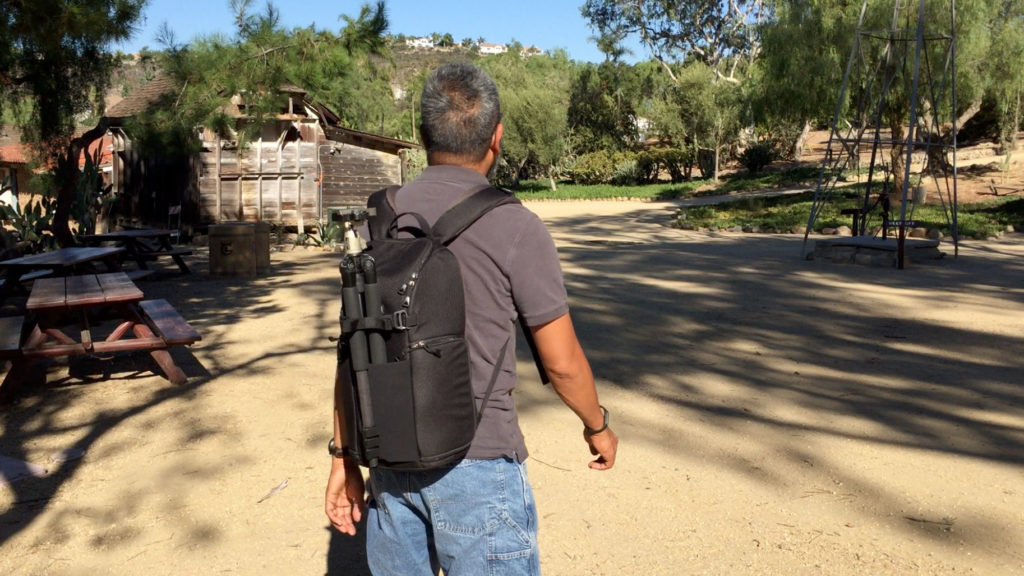 Enter the Trifecta 8 designed by Think Tank Photo. This bag allows you access to your camera gear FAST like a sling or shoulder back BUT it's a backpack so you get the stability and security that comes along with that! Here's how it works: Think Tank designed 2 side zipper access ports on the SIDES of the backpack. This is where you camera gear, lenses, etc. are stored. When a photo op suddenly presents itself, you slide one shoulder strap off, leave the other one on, swing the backpack around unzip the side port and BAM you've got your hands on your camera, ready to shoot! If you're done shooting for a while, put the camera back, otherwise, put both straps on your shoulders and walk away with the stability of a backpack. See the VIDEO BELOW to see how this all works.
This is a great camera bag if you're looking for a backpack that's light, nimble and stable.
If you'd like some nice rewards because you're a follower of this website, make sure you don't miss the special link down below!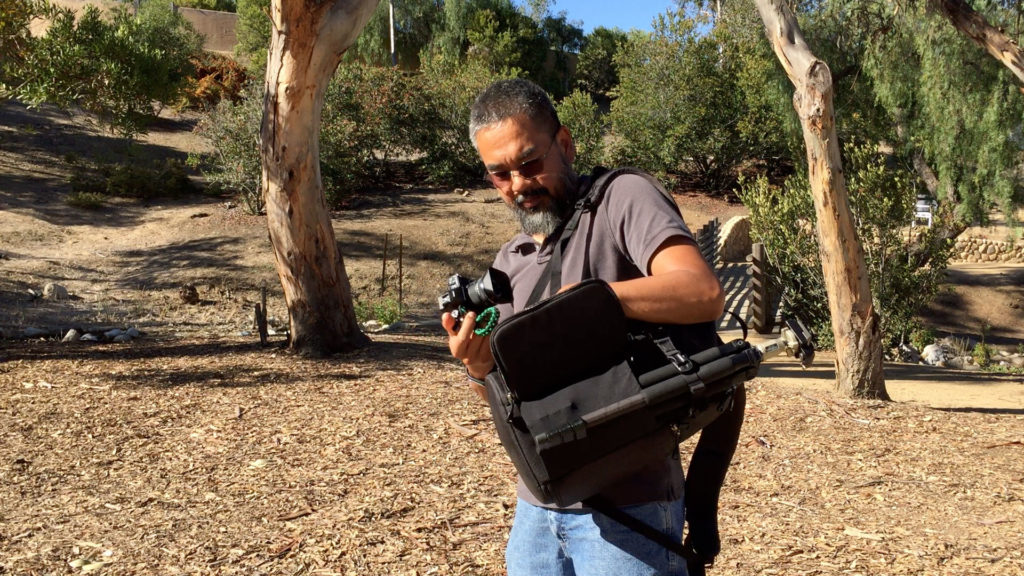 PROS:
Really well built: Great materials and Craftsmanship
Small and Nimble
Quick Easy Access to Gear
Looks Good: Minimalistic / trim / streamlined design
CONS:
Would've liked tuck-away pockets under every flap
Small external pockets on the top / sides would've been nice
CHECK OUT THE VIDEO BELOW
Here's a LINK to the Trifecta 8 Backpack. Use this link and a small bit of your purchase price goes to help support this site and my efforts.
Alrighty, if you've made it this far you deserve a reward.
I've got a special offer for you. If you go to THIS LINK you'll land on a special page that Think Tank has created for me. Here you can go shopping AND if you buy more than $50 (very easy to do give all the SuperGroovy cool gear that Think Tank has to offer) you'll not only get free shipping BUT you'll also score a free gift (the gift varies and depends on what you purchase).  So here's THE SPECIAL LINK once again. Go there, shop and tell them that Sonny sent you.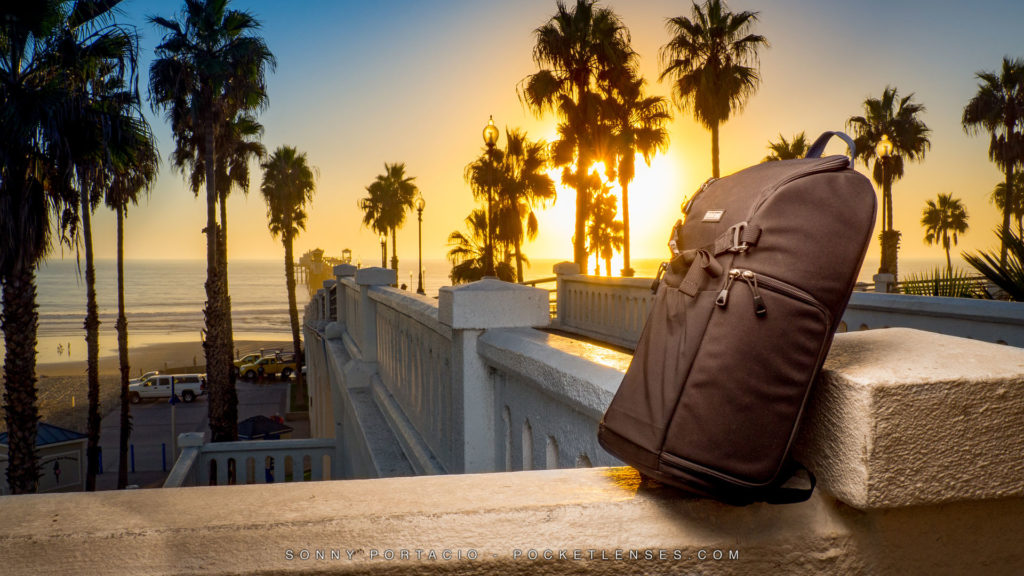 What I currently carry in my Think Tank Trifecta 8 Bag
Lens: Fujinon 10mm – 24mm (15mm – 36mm equiv) with hood
Lens: M. Zuiko 14mm – 42mm (28mm – 82mm equiv) with hood
Lens: M. Zuiko 40mm – 150mm (80mm – 300mm equiv) with hood
Body: Olympus OMD EM10 MK2
Body: Fujifilm X-T10
Yongnuo YN560 IV Speedlight
Yongnuo YN560 TX Controller
Yongnuo 603 triggers (2) + cables for Fujifilm and Olympus
Circular Polarizer 77mm
6 stop ND Filter 77mm
10 Stop ND Filter 77m
4x Macro Converter Lens
Step up rings
Extra Camera Batteries
Extra Memory Cards
Micro Tripod (Ultrapod)
Disposable Zeiss Lens Wipes
Blower / Brush
Microfiber Lens Cloth
LED Light
Grey Card
Plastic Grocery Bag
Index Cards
Pen
Bandana
Cold Shoe
Paper Clips
String (Paracord)
Lighter
Earbuds
Gaffer's Tape
Slik Sprint Pro II Tripod with ballhead and manfrotto adapter
Note: The links to the Think Tank products are affiliate links. If you purchase any product by using one of these links (although your price for the product will remain the same) a small portion of the purchase price comes to me to help support this site. (and I thank you)
Although the manufacturer provided me with a product for evaluation free of charge, the views expressed here are an unbiased reflection of my personal opinions of these products.